Your club's most popular equipment may be holding you back. Here's how to strengthen engagement by giving your members a more rewarding cardio experience.
You see them come into your club every day. They're the members who hit the same cardio machine and do the same workout every time, trudging forward on a treadmill belt with all the enthusiasm of extras on "The Walking Dead."
Exercise scientists know that those who do the same exact cardio session will gradually reap fewer benefits from the workout. Blame the adaptability of the human body, which demands a variety of physical stimulation to make steady progress. This physiological fact, and the sheer boredom of steady-state cardio workouts (even allowing for personal entertainment options), has spurred the industry to offer more fitness programming options, including boot camp, cycling classes, and dance fitness. Not only are the results better, but so is the exercise experience itself. These workouts are high-energy and fun.
The challenge for club operators is to bring that same level of enthusiasm and results-oriented training to their cardio room. Cardio machines are still the most utilized equipment among health club members, according to The IHRSA Health Club Equipment Report: Spending, Utilization & Programming Trends. But how members use that equipment makes a difference to their perceived satisfaction with their overall club experience.
5 Things You—and Your Cardio Equipment—Should Be Doing
Let's look at how you can increase the member experience in your cardio room. For a premium cardio workout, your equipment should be able to accommodate these trends.
1. Allow for heart-rate and HIIT programming
High-intensity interval training (HIIT) and heart-rate training are quickly gaining a larger market share in the fitness industry. The American College of Sports Medicine is just one research body that stresses the overall effectiveness of HIIT over more conventional routines. Machines that don't allow programming for these types of workouts are not keeping up with workout trends that are quickly becoming imperatives.
HIIT and heart rate workouts are almost always shorter than steady-state cardio sessions, too. That's important for younger demographics. According to the IHRSA Health Club Consumer Report, lack of time is one of Generation X's top reasons they don't go to the gym.
2. Increase social engagement and wearable connectivity
This is a no-brainer in these days of advanced tech devices that calculate activity markers and feed it to cloud-based social media sites. While older demographics aren't as plugged in, that's beginning to change, and you may be missing an opportunity to foster more social connection among your club members if your cardio equipment doesn't provide for multiple digital platforms.
3. Offer versatile machine settings
Apart from a wide range of programming options, cardio equipment needs to be versatile in its ability to provide incline adjustments and other hardware settings to allow for different sized members with a range of fitness abilities. You'd be surprised how unyielding a lot of cardio machines are. Make sure your machines can provide a comfortable, safe workout for members of every shape and size.
4. Ensure it's easy to use
This is another under-appreciated aspect of well-designed equipment. The dashboard panel should be intuitive and offer easy entry points for those coming to the machine for the first time. There's no rule saying that versatile, technologically advanced equipment has to be complicated.
5. Delivers on the "wow" factor
This is a subjective measure, but you know it when you see it. Offering equipment that's appealing to the eye, while providing unique features and capabilities, reflects well on your club brand. Fitness consultant Brent Darden says clubs can increase member satisfaction with even just a partial equipment upgrade.
"It should be augmented periodically with a major/noticeable equipment rejuvenation that produces a 'wow' factor," he says.
Bringing Excitement Back to the Cardio Room
Your equipment can't do all the work, of course. You have a responsibility to educate your members on the potential and versatility of your club's machines. According to The IHRSA Health Club Equipment Report, more than 80% of clubs incorporate equipment in training programs. Find ways to utilize your showcase cardio machines into your group and individual training programs.
What's also clear is that you need to be doing business with the right equipment supplier—a forward-thinking company that's creating cardio machines with today's consumer in mind.
One equipment supplier at the forefront of helping clubs increase member participation and satisfaction is TRUE Fitness. Last year, the company introduced "Next Level Training" as part of the TRUE HIT series of high-intensity programming. While those workouts worked seamlessly with TRUE's "HIIT Series Cardio and Composite Strength lines," the company has recently introduced their most revolutionary cardio machine yet: the TRUE Alpine Runner.
Recently, the company introduced workouts that incorporating high-intensity-interval training. These "Next Level Training" workouts worked seamlessly with the TRUE Spectrum, TRUE Traverse and their most revolutionary cardio machine yet: the TRUE Alpine Runner.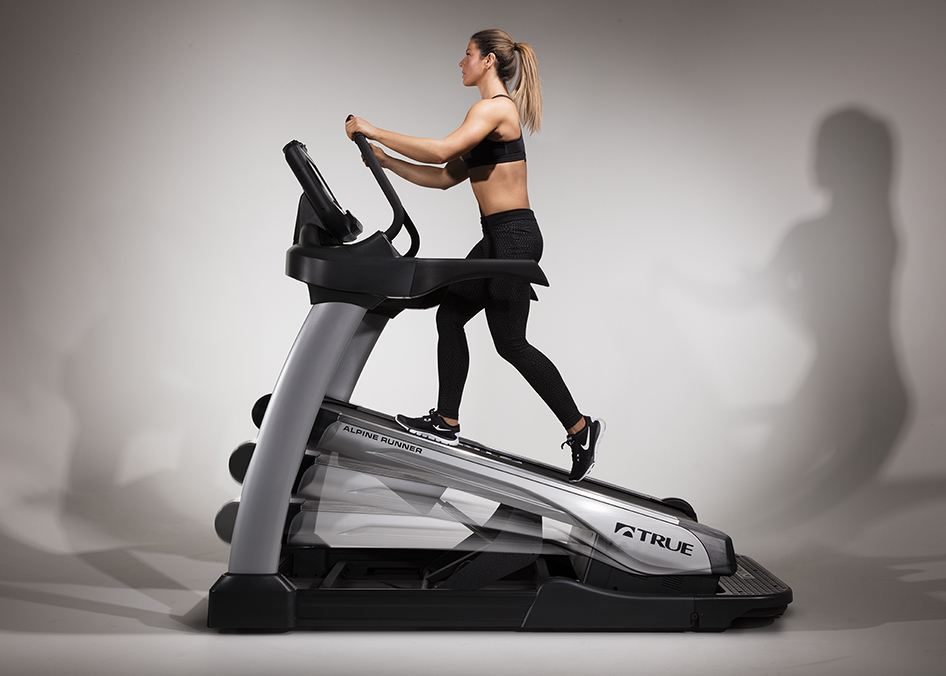 The TRUE Alpine Runner offers features that deliver an exciting training experience for members across a range of ages and fitness capabilities. Here's what it offers, according to TRUE Fitness:
An incline range of -3—30%. This incline doubles what most comparable machines can do, and allows for more intense HIIT-style routines and is proven to burn more calories than the average treadmill.
Has customizable heart-rate workouts. The programming versatility of TRUE's Soft System and patented HRC Heart Rate Control technology are in synch with the industry's hottest fitness trends. These options will help members enjoy the type of workouts that have been proven to be more effective for weight loss and overall conditioning.
A unique cushioning system. Not only does the greater incline deliver more intensity with less stress on joints, the Alpine Runner's soft deck lessens impact on connective tissue. The extended, vertical hand grips make it comfortable to utilize extreme inclines.
TRUE's Monument Workouts. This is where the "wow" factor kicks in. Exclusive to the 16-inch premium touchscreen console available with the TRUE Alpine Runner, users can simulate climbing Mt. Everest, the Eiffel Tower, and other major global landmarks. The pre-programmed workouts adjust the incline automatically to the changing terrain on the screen. It's a reminder that cardio workouts can be a lot of fun with the right equipment and technology.
To see the Alpine Runner in action, stop by the TRUE Fitness booth 1715 at IHRSA 2018 in San Diego, CA on March 21-24, or simply visit the TRUE Fitness website. Also stay up to date with TRUE by following them on Facebook, Instagram, Twitter, and LinkedIn.
Jim Schmaltz
Resource: IHRSA
Read more:
7 Fitness Gifts That Give Back & Make The World A Better Place For All Of Us