By taking the time to craft a Facebook strategy, you can increase referrals and leads for your health club.
Since it launched back in 2004, Facebook has become a ubiquitous part of our daily lives. You may associate the social network with blowhards from high school, alleged Russian interference in U.S. elections, and more baby photos than you've ever cared to see, but Facebook (and its 2 billion users) presents a prime opportunity to market your health club business.
Not only does the tech giant provide the largest potential reach of any social media, but the cost to advertise is relatively inexpensive, says Marisa Hoff, general manager of Stevenson Fitness in Oak Park, CA.
"What's really awesome about Facebook is you can target to a very specific audience, which means the money that you're spending is going much farther than if you're blanketing the entire neighborhood with flyers," she says.
Hoff will cover the latest Facebook strategies and best practices in her Thursday, March 22 IHRSA 2018 session, "Maximizing Facebook for Your Facility."
Creating a Facebook Strategy
If your club doesn't have a Facebook strategy in place, you should start by giving your page some TLC. It's critical that your profile is complete, so review your business page to make sure you have a profile photo, cover photo, and thorough information, from your website to your club's hours.
"Many people don't realize it, but your organic reach is literally going to be affected by how filled out your profile is," Hoff says.
Once you're sure your page is complete, it's time to craft a content strategy. This step will help you determine what kinds of things you'll publish to your page and how often you're going to post them.
Hoff suggests taking a few hours away from the office to have uninterrupted time to think about your content. Once you have a rough idea of what kind of posts will resonate with your audience, gather your team to brainstorm content categories.
"A category might be 'member testimonials' or 'programming highlights' or 'employee profiles' or 'articles from fitness-related blogs,'" Hoff says. "I'd start brainstorming a list of four or five, but you can go up to as many as 10."
Next, work with your team to plan content within your categories. If one of your categories is "member testimonials," think about how you're going to gather them. Do you need to send an email to solicit testimonials, or can you source them from existing Facebook and Yelp reviews?
After you've gathered the content, consider how you'll present it on Facebook. This could be as simple as posting a photo of a member and including their testimonial in the caption.
With your content starting to take shape, it's time to draw up a publishing schedule. Hoff recommends mapping out three posts per week in a simple Excel spreadsheet. Once that is in place, you're ready to start publishing. But content planning doesn't end there—it's crucial that you set aside time each week to review how your posts are performing.
"The most important thing is to go back and check your Facebook Insights to see how well those posts are doing," she says. "You have the ability to see so much information, so for people just starting out I'd keep it simple and look at reach, pageviews, and likes."
Facebook Insights' analytics will help you determine which posts elicit the most engagement, as well as the best days and times to post. Study this information and adjust your content strategy accordingly.
"The most important thing is to go back and check your Facebook Insights to see how well [your] posts are doing."
Marisa Hoff, General Manager
Stevenson Fitness, Oak Park, CA
Using Facebook to Boost Leads
Once you begin executing your Facebook content strategy, you should start to see a boost in the number of engaged followers. This growth in engagement provides even more opportunities to promote your health club and gain solid leads.
The primary source of leads for most clubs is referrals, and Facebook is yet another way to prompt more of your members to refer friends and family to your club. Stevenson Fitness has seen much success generating referrals and word-of-mouth marketing using targeted Facebook campaigns.
In September, the club ran a #WhyStevenson hashtag contest, in which they encouraged members to publish Facebook posts sharing why they belong to Stevenson Fitness. The club hung a banner out front to promote the campaign and give members a spot to take photos.
Any member who made a post using the hashtag and showed it to a staff member would receive sunglasses or a hat as a thank you.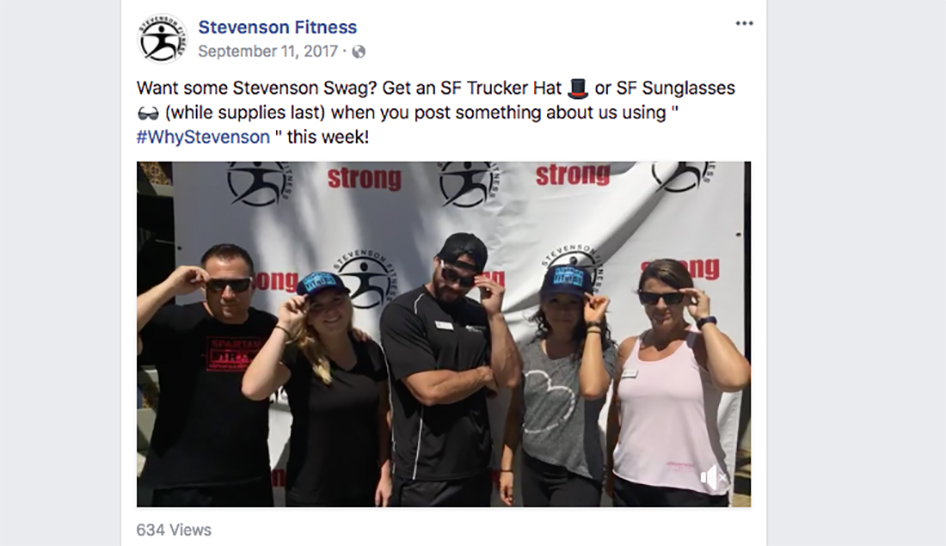 "People posted amazing testimonials about the gym from their own Facebook profiles. We didn't even do any of the advertising—we had all of our members and employees doing that," says Hoff. "That month we had triple the number of sales we normally do. There were a number of things that contributed to that jump, but [the hashtag campaign] was a big factor."
At her IHRSA 2018 session, Hoff will share more about successful Facebook campaigns she's run at Stevenson Fitness, as well as strategies to enhance your organic and paid Facebook reach.
Resource: IHRSA
Read more:
A look back at the major fitness trends of 2017